This post is also available in: Italiano (Italian)
Is the era of navigators finished? During many trips, even before what we are doing now, we have had the opportunity to test various navigation applications on the field on both Android and IOS. As far as we are concerned, we always did it by adding a traditional GPS, so we were able to experience first hand the strengths and weaknesses of both types of devices. In this article we will try to review some of the off-line navigation applications we have used, trying to highlight which one we liked the most.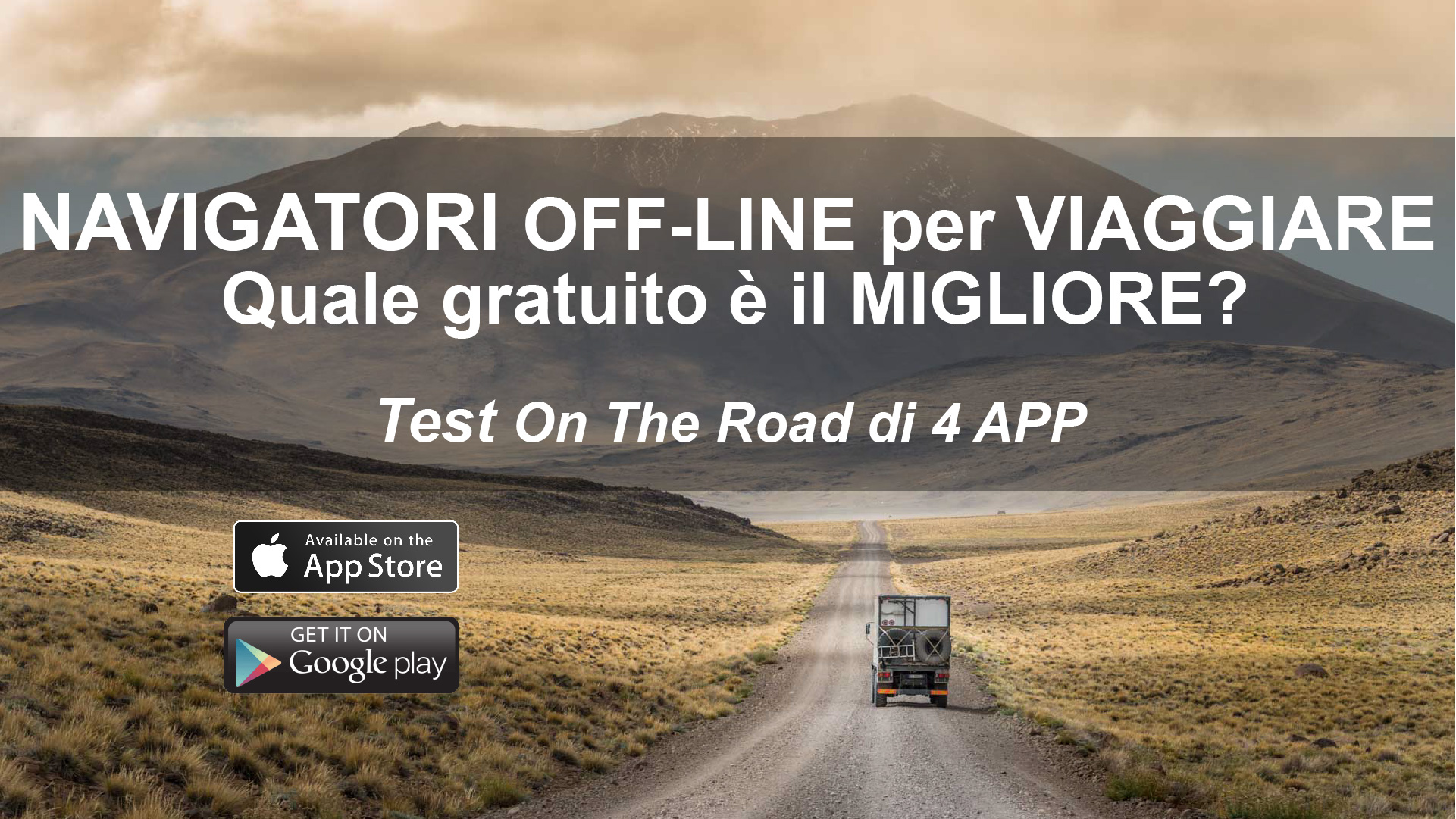 We can therefore say that this is a real test on the road of various Android and IOS applications.
In this article we will talk about applications that use vector and non-raster maps. What does it mean? Without complicating too much the explanation we see the differences: The raster maps are nothing more than digital images of cartography, these have a fixed size, so the zoom levels depend on the amount of pixels they have. Famous examples of applications that use raster maps are Google Map or OZI Explorer. The vector maps instead are constituted by points, lines and polygons that describe the objects contained in the cartography: Roads, rivers, bridges, railways, etc.etc. The big difference between the raster and vector maps is the file size and consequently the zoom level obtainable.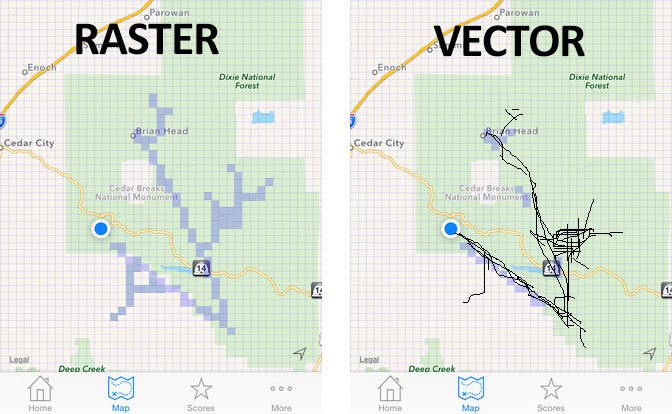 Speaking of offline navigation and mobile devices, the file size is of fundamental importance (as well as space for the performance), so as far as we are concerned the choice is to use vector maps.
Unlike what happens for the main devices dedicated to satellite navigation such as Garmin, Magellan, TomTom etc. etc. all the maps used by the applications we tested derive from the Open Source Map OSM (Open Street Map). That said, you could think that all the maps are the same, but this would be true only if the developers of these applications frequently updated their database, and especially if they did not add customized content. In fact, the first thing we have experienced on ourselves is the great difference that exists between an app and the other also in cartographic as well as functional terms.
Premise N ° 3
As far as we are concerned, we use satellite navigation apps as a map support, we almost never use the automated driving features on the road. This is because we usually use cartographic software as a tool to support a path designed by us rather than a guided one. For this reason our comments on these software are more oriented to evaluate the technical aspects fundamental to the planning of the trip compared to the one purely by Navigator (normally called Turn-By-Turn Navigation). We therefore press speed, map update, advanced functions of traces and POIs, data export with respect to the precision with which route indications are given. However, we will also give our opinion on this aspect.
OsmAnd

OsmAnd Maps & Navigation is a free GPS app with limitations that has a nice and robust interface, has well-updated maps derived from OpenStreet Map. Its navigation functions are solid especially if the route calculation is within 500 km. Very interesting the option that allows you to insert intermediate stages on the fly when the route calculation has already been done. The application is limited in the sense that it is possible to have seven downloads (maps, navigation entries, etc.) before being obliged to purchase the paid version.
When you first start the app, a welcome screen will appear asking you to download the necessary maps. Apart from the map of the country you need, you need to download a world map of overlap (which does not count to the sum of seven free downloads). After downloading the map, you will be able to fully use the offline app.
Many Overlanders use this app because it allows the storage and use of way-points (POIs) in standard .gpx format. This means the ability to load external points that can then be used for navigation. Using an OSM Layer Map Viewer technique allows you to speed up rendering while browsing, but this is true when the processing power of your tablet or smartphone is adequate for your application. The application is free and allows you to simultaneously upload up to seven countries, then you have to start paying the maps. This obstacle can be avoided by eliminating the maps of the nations that you no longer want to use.
Of this app we did not like a couple of things. First of all, the maps are slow to download. This can be particularly frustrating when you first access the app and you have to wait ten minutes just to download a world-wide map (which requires about 100 megabytes). Furthermore, the interface could have been more fascinating. All POIs have the same color (although different icons), which can be confusing when trying to find a particular place on the map. The points loaded in GPX all provide the same icon, which can make using it quite complicated.
Maps.me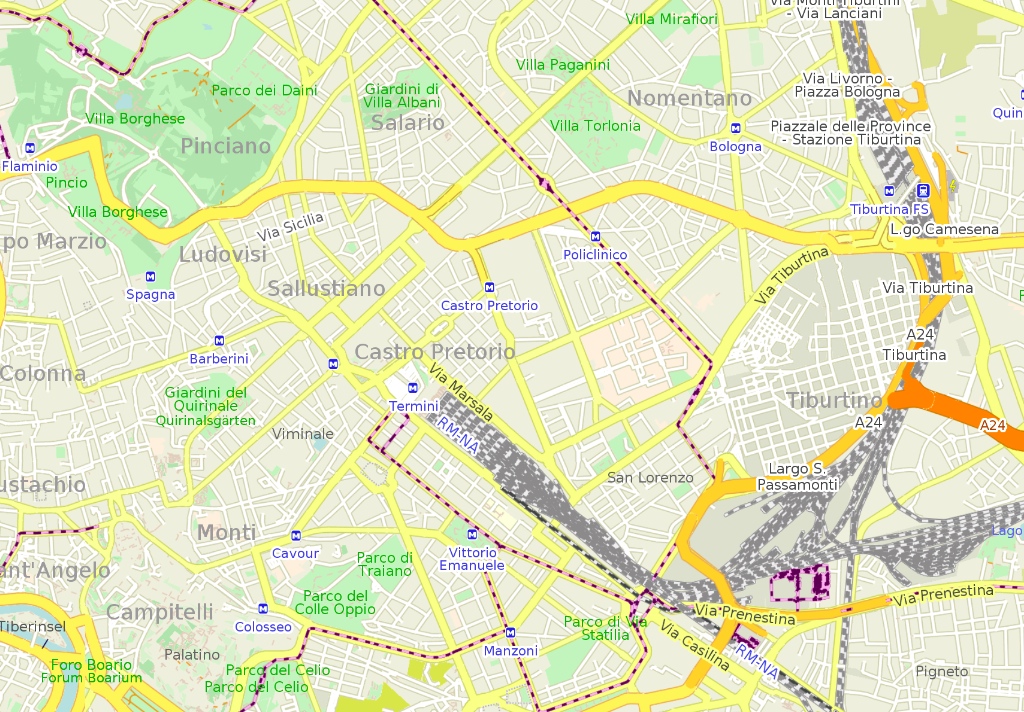 Maps.me is another offline browsing software appreciated by many travelers. Its interface has a more modern and light character than that of OSMAnd, but the use of more advanced features requires a minimum of learning before being "discovered" and then used. The maps of this application are very detailed and contain many POIs wired in the same cartography. These are mainly lists of commercial activities, campsites or hotels. The search for certain types of activities often works well, for example, you can type "market" to search only the points of sale that interest us.
Maps.me cartography layers are also integrated with some important online booking sites including booking.com. This means that by selecting a POI offered by Booking.com you can directly access the booking of a hotel. For travelers who like to use this type of tools Maps.me certainly offers great advantages compared to OSMAnd. Of course, these features can only be used when you are connected to the Internet, therefore unusable off-line.
Maps.me allows you to import external POIs in KMZ format, this makes it functional in order to navigate to points generated online with other applications (see google maps) or with any software that is able to generate them. Having files in .gpx format will require a prior conversion.
It is noteworthy that it is possible through Maps.me to edit the cartography directly to make updates. To be able to share them with the Open Street Map audience, you will need to log in and log in.
One of the advantages of Mpas.Me compared to OSM is the rendering speed that seems better even on slightly less performing devices. This is because apparently the maps loaded in memory are decompressed better than what happens with OSM.
Maps.Me also offers the coordinates of many tourist sites directly wired in the cartography, even though these are often called vaguely (for example: monument, waterfall, hill) and therefore sometimes unrecognizable. Normally for us we use Maps.Me on IOS while OSM on an Android tablet immediately noticing the first big difference, or that Maps.me when requested is only offers a route without alternatives, which often leads to major roads or paid. We never navigate with Maps.me.
The search for Maps.Me POIs is very slow and the route calculation (when more than 300 km is very long). This is probably due to the fact that Maps.Me has a much richer internal database than OSM. It has happened several times that the Maps.me app has crashed abnormally, which really happened very rarely with OSM. As for the actual navigation, the recognition of the unique senses is rather poor (true for all the tested apps).
MapFactor Navigator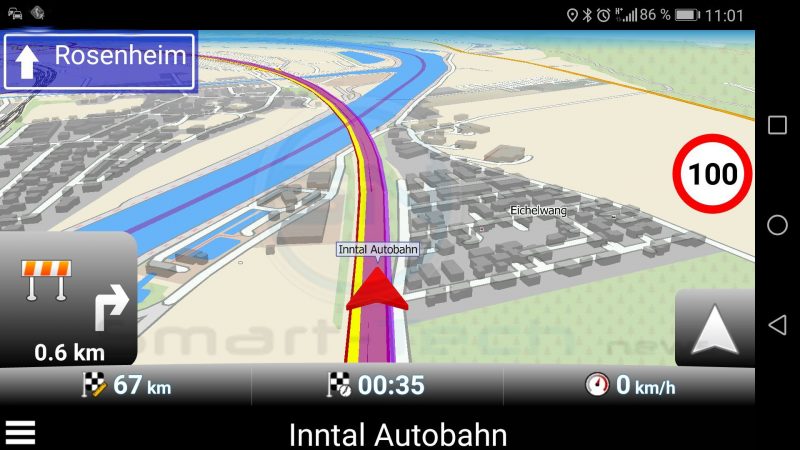 This app has undergone numerous updates in the last year but the idea of ​​having to pay for some add-ons we find it quite annoying when among these there is for example the possibility of selecting between three suggested routes against the only available default. Another really annoying factor is the advertising on the app, which for us makes it a little appalling choice. Of course, paying a price you can remove the advertising, but we do not understand the meaning when the other apps are without default.
Probably this app is particularly suited to those who come from traditional navigators and often relies on guided navigation, but as far as we are concerned, the navigator must always be a support tool rather than an object to rely 100% here. Among its features, in fact, it is present to show in real time the traffic situation, which is not very useful if we think of an Overland use purely off-line.
I do not know how interesting it can be, but it should be noted that there is a Premium version of this App that uses TomTom maps instead of OSM maps.
Magic Earth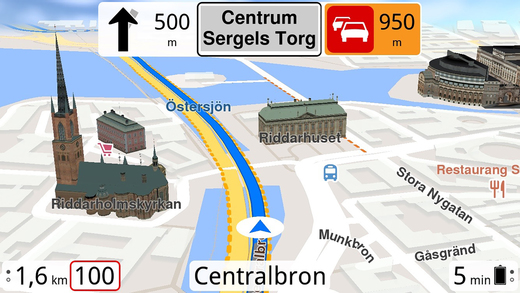 Magic EMagic Earth is one of the few apps that even calculates up to 3 different route options (without paying add-ons). Even before you start browsing this app asks if you are moving by walking, pedaling or driving a vehicle. Choosing the shortest route is proposed only one option, while opting for the fastest route are proposed three.
Unfortunately, when we used it here in South America we found out that this app makes a lot of errors in the calculation of the route, effectively invalidating any mileage and mileage statistics.
The POIs contained in the app are unclearly organized, so they become difficult to use.arth and its 3D visualization
Which is the best app for navigation?
Overall, we must say that both OsmAnd and Maps.Me are two excellent and valuable software while we absolutely did not like Magic Earth and MapFactor because of their lack of propensity to be used as planning tools compared to the other two. So we will only evaluate the first two at the end.
Maps.me focuses on ease of use. Compared to OsmAnd, it is much faster to calculate routes. Maps.me can also display external tracks as over-layers on the map (only in the kml format, but not in the popular gpx format).
Both Maps.Me and OsmAnd provide a synthesized voice output for turn instructions. However, as we said this is an aspect that interests us little, but having tried both, we must say that they were not very reliable in order to reach the destination without looking at the map.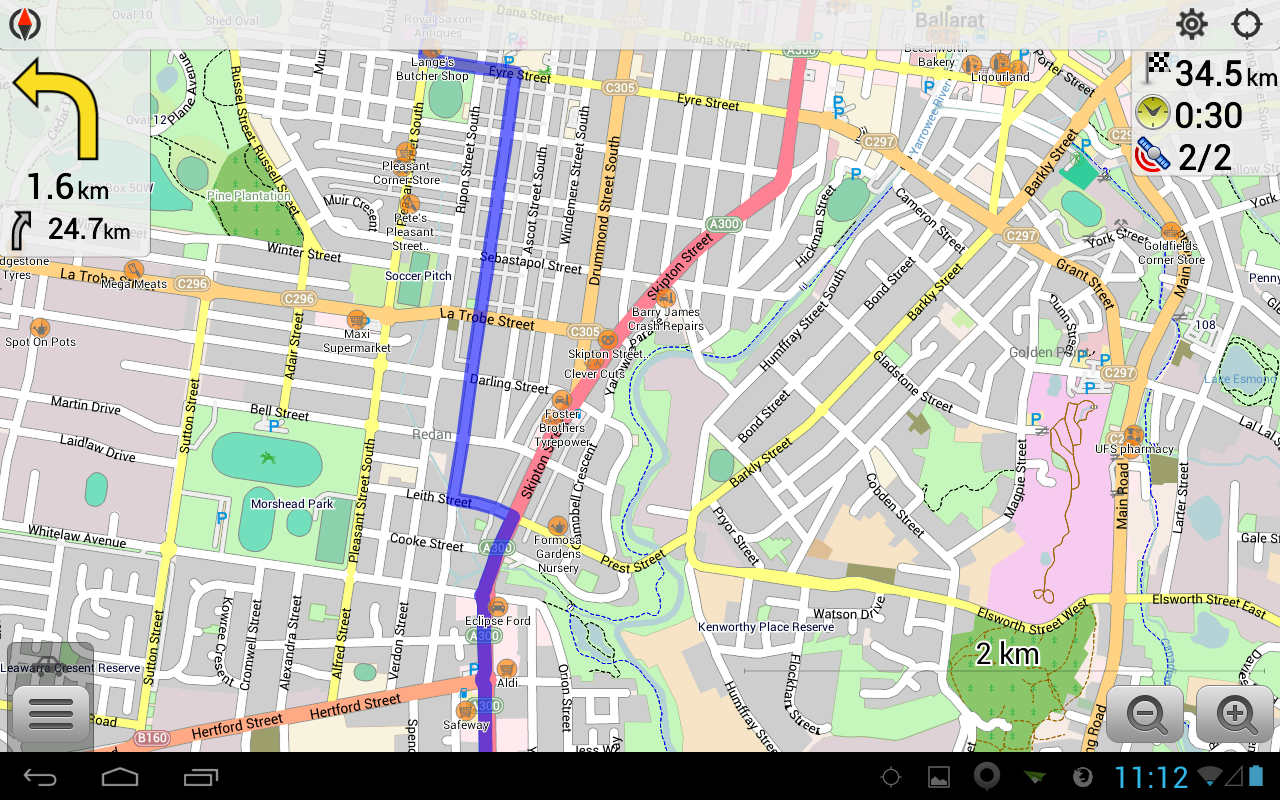 What is very important for using Overland is that unlike OsmAnd, Maps.me stops browsing in case the display is turned off. This strange behavior means that the driver can not turn off the display when the next turn is very far.
OsmAnd is a really reliable and accurate app. It can do almost anything that could be expected from a desktop mapping application. It is equipped with a highly configurable map with different layers (SRTM contour lines, hillshading, POI), can import and export tracklist, supports differentiated routing for cars, bikes and pedestrians and can also warn when speed limits are violated. As mentioned, its routing engine also manages intermediate stages.
We have been using OSMAnd for many years and over time it has become increasingly easy to use, despite its many features.
On the other hand, these features require a certain amount of controls, while some functions are well hidden in some submenus. It is therefore necessary to provide a learning period to exploit all the options. On the other hand, compared to Maps.me offers a rather slow route calculation engine that has difficulty in calculating long distance routes.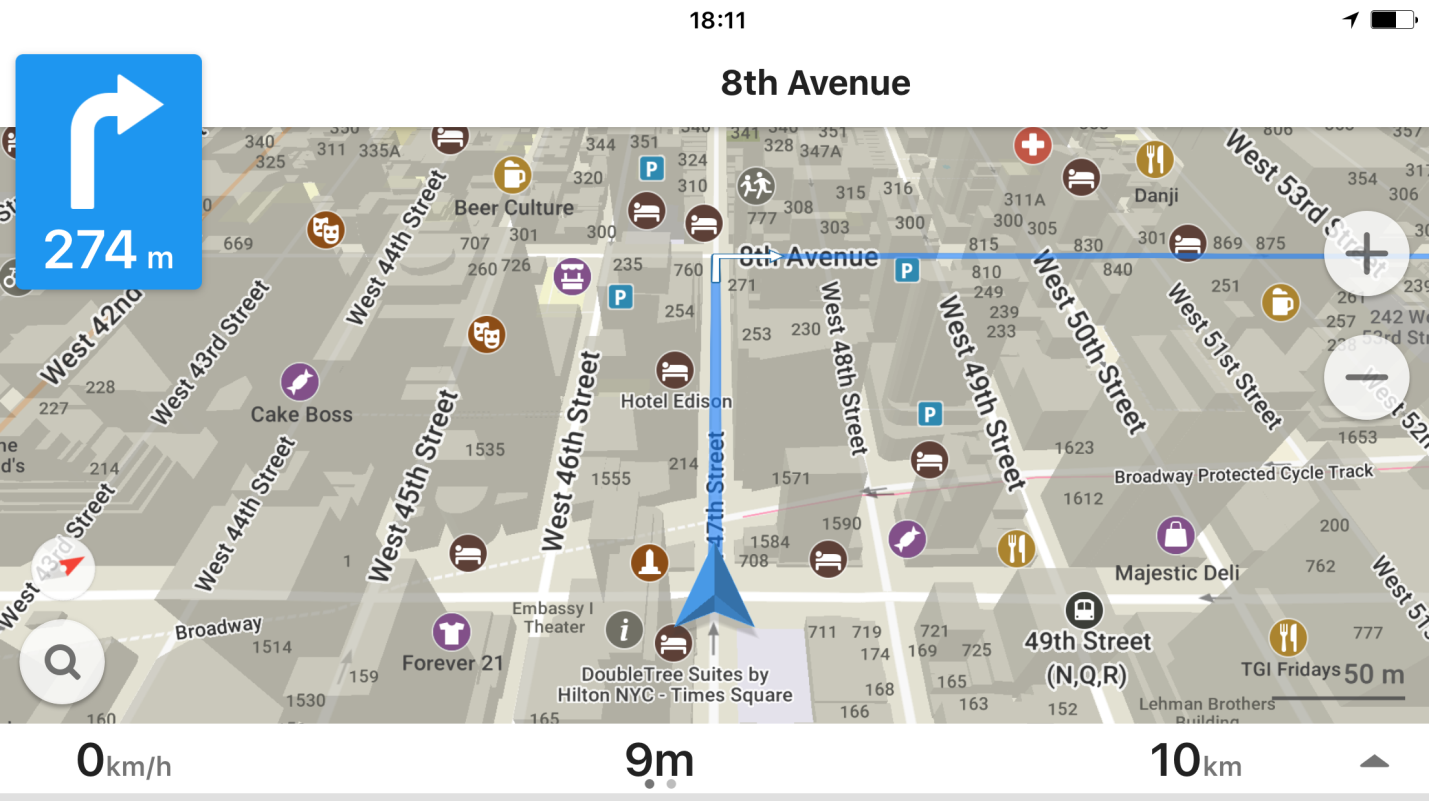 Due to the fact that the navigation function also continues in the background and the display off the tablet or smartphone battery is used a lot. This however is a defect repaid by the fact that OsmAnd is always running so even putting the device in your pocket continues to record the tracklog and immediately shows the current position. You can even add waypoints to the current tracklog (although it requires a couple of clicks). These features are fantastic.
As mentioned OsmAnd contains only POIs that are present as nodes in the openstreetmap dataset, while Maps.me has additional ones.
To conclude, we believe that OSM is suitable for more experienced users who require robust functionality but who have a better performing device since the rendering of Maps.Me is definitely better. On the other hand, Maps.me adapts well to a less demanding public and perhaps appreciates the possibility of using additional online functions.