This post is also available in: Italiano (Italian)
Among the questions we are asked since we travel, and especially since we are in South America, there are certainly the following: Where do you stop to sleep at night? Do you feel safe? How much do you spend? How do you find the best places? Every traveler could provide their answer to these questions, we try to give them in this short article where we list 12 possible solutions.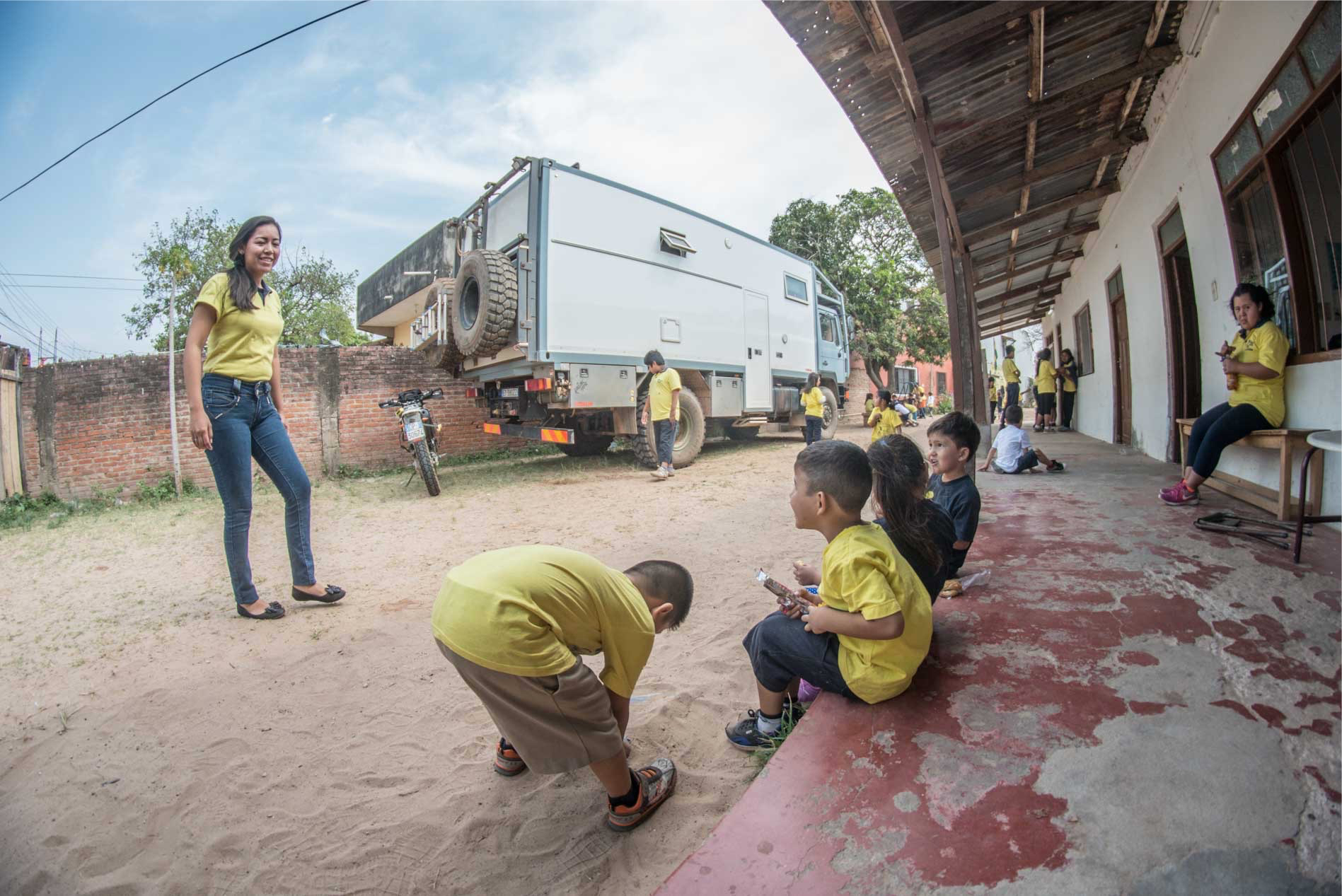 In the picture above: the pleasant days spent at the Casa Dell'Almendro Foundation, one of the most beautiful places where we spent the night and the day.
How much is spent?
Let's start by saying that we spend most of our nights without spending anything on paid areas such as car parks or campsites. From April 2017 to today, we only stayed overnight at a campsite in Morocco, where we found ourselves with relatives and friends in different places. This is basically only possible because our Valentino truck is completely autonomous.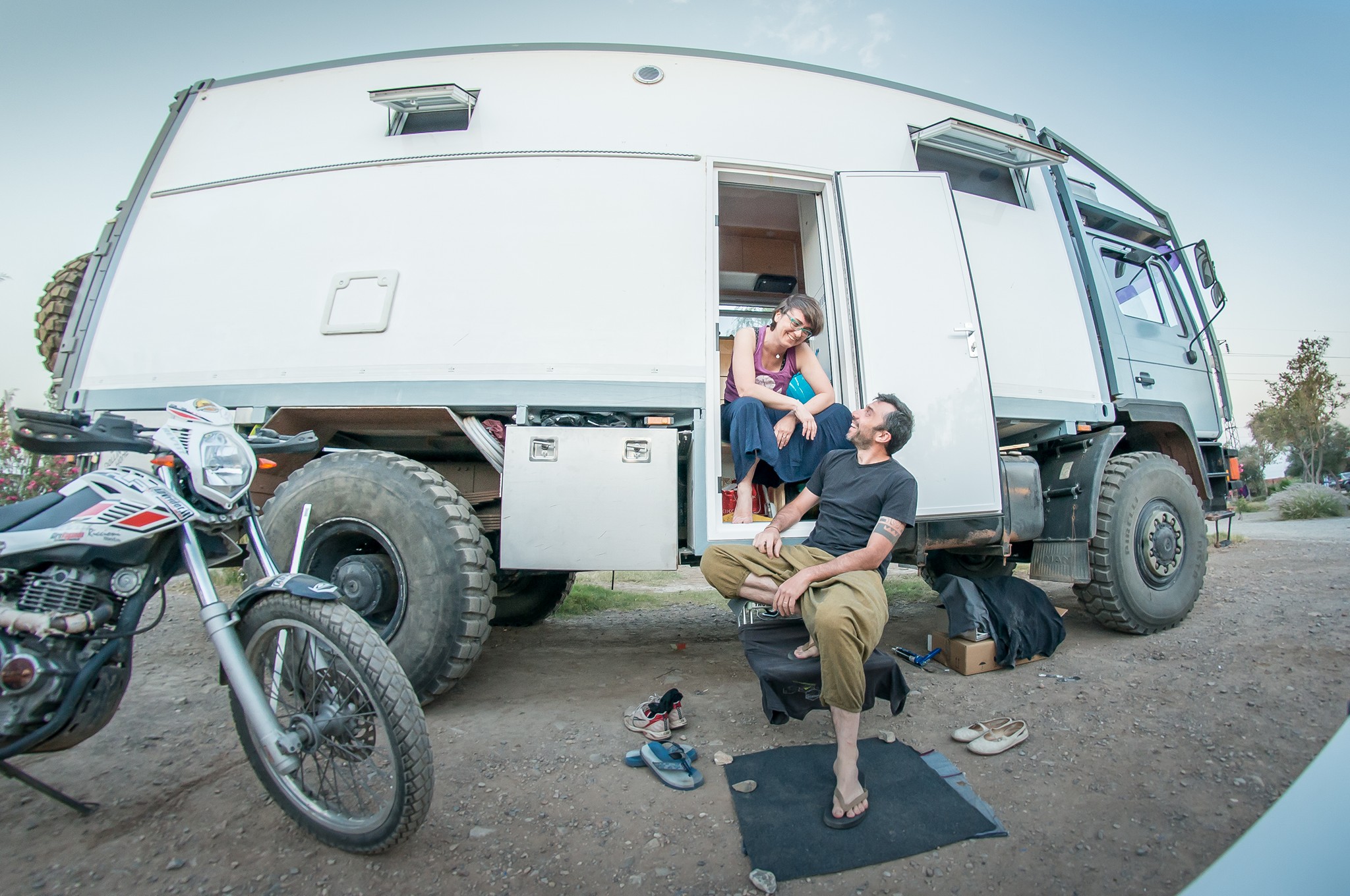 In the picture above we find ourselves in one of the few formal campsites in which we stayed, it is the Relais De Marrakech in Morocco. It's a place where we've been many times and it's great to have a free WiFi connection and meet other Overlanders. However, sleeping in places like this does not enthuse us because we do not stay in touch with the local population and tend to live more in symbiosis with other tourists than with locals
Expenditure depending on the vehicle
The place we park depends fundamentally on the type of vehicle we are traveling with and we believe that there are basically two distinct categories.
The first group travels on board a small car: a pick-up truck, a Land Rover, a Land Cruiser or a small converted van. Due to the limited space and load capacity, this type of vehicles is almost impossible to be totally self-sufficient. Some to sleep may have a tent on the roof, only a limited number of these have a bath or a shower. To finish these vehicles rarely have sufficient regenerative electricity to avoid their connection to the power grid for a long time.
The second group consists of those traveling on vehicles like ours, substantially larger than the previous ones. Trucks, sometimes smaller than Valentino or large vans. The chassis of the truck offers the possibility of installing large reserves of water, toilets, refrigerators and kitchens and why not, as for us, a washing machine.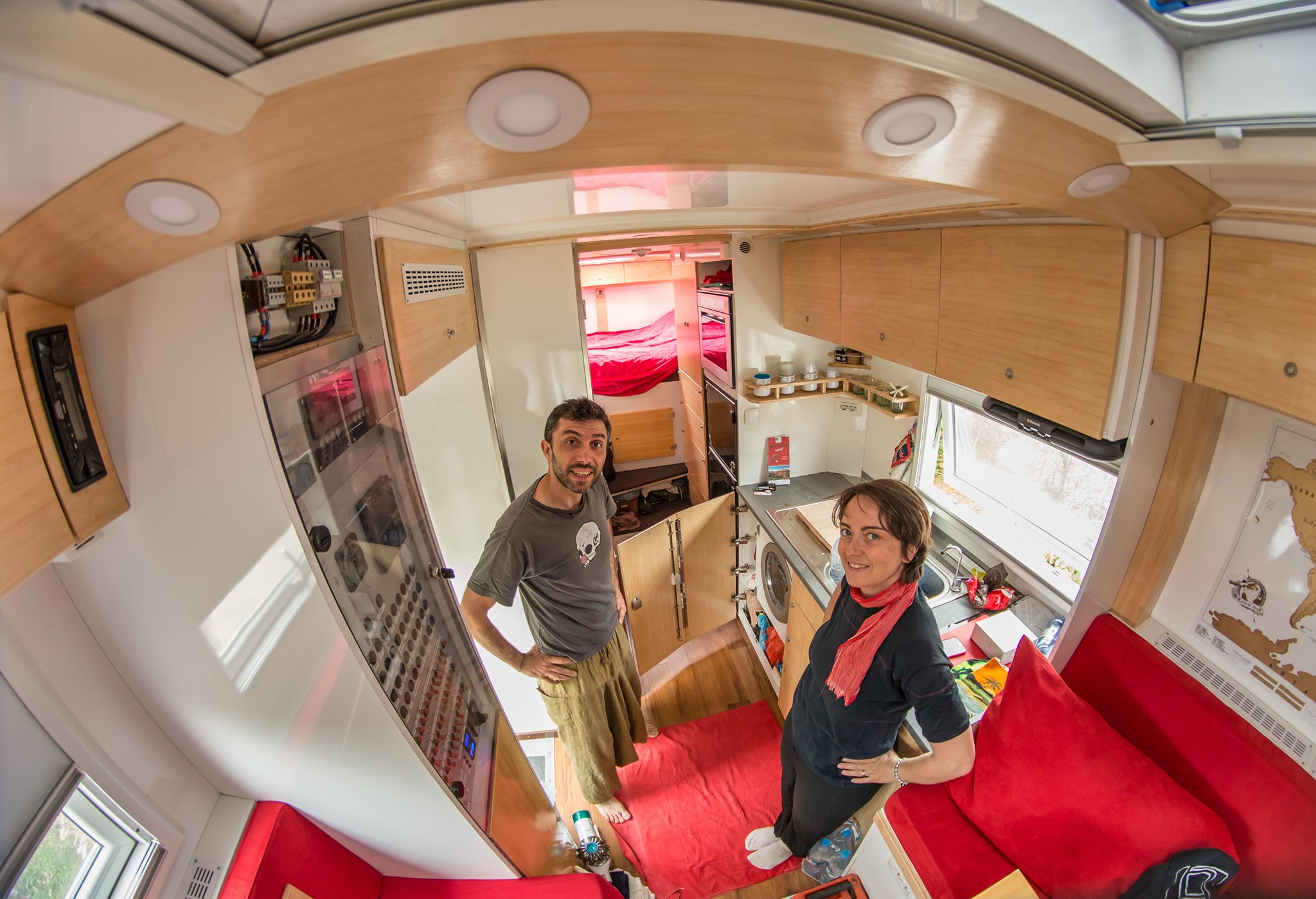 In the picture above: Our Valentino is equipped with a washing machine. To the many who think that it is a habit of useless luxury, we answer that here in South America, washing in a laundry can cost up to 50 $ for 5 kg of clothes.
But there is a price to pay to be self-sufficient: we use more fuel than the smallest category of vehicles, then there are road tolls, maintenance and more to make sure that the management of a truck is substantially different from that of a car. However we believe that we can open up a good discussion about the great economic benefits that it brings to be totally independent. Advantages that we consider to equate travel costs when this is in the long run. People traveling in small vehicles need to stay more often in conventional campsites, or occasionally spend the night in hostels or hotels. This is because of the fact that you can not simply bring up the tent on the roof in the middle of a city. When necessary with a self-sufficient vehicle you can always look for a quiet side street and spend a night in the center.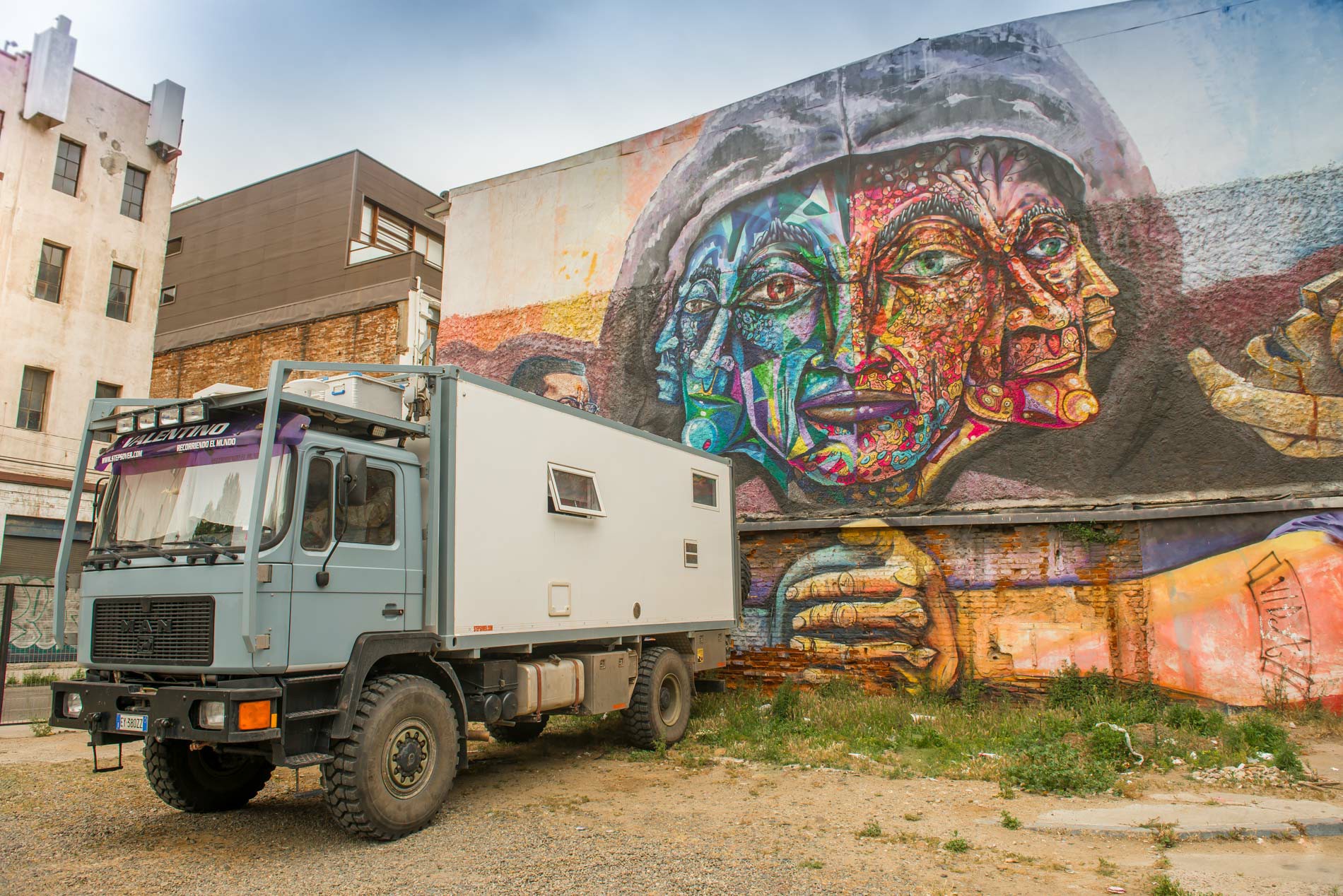 Photo above: Valparaiso (Chile), night spent not far from the port of the city, hard to think of sleeping in the same place in the tent.
Like everyone, we do not like to stay in noisy places. Our favorite places are far from the luminous street lamps, the traffic, the barking dogs (which is very difficult here in South America) and the almost always present roosters. In short, we like to stay away from residential areas and densely populated even if it happens to stop even at large refueling stations with rest areas attached to truck drivers. Despite all this sometimes you are forced to stop in places such as those mentioned, so you need to be prepared.
How do we look for places to stop?
There is no single answer to this question. Experience has taught us to tackle this research with a series of different approaches depending on where we are. However let's clarify immediately, we often happen in beautiful and interesting places, other times instead we end up in less beautiful places from the point of view of the landscape.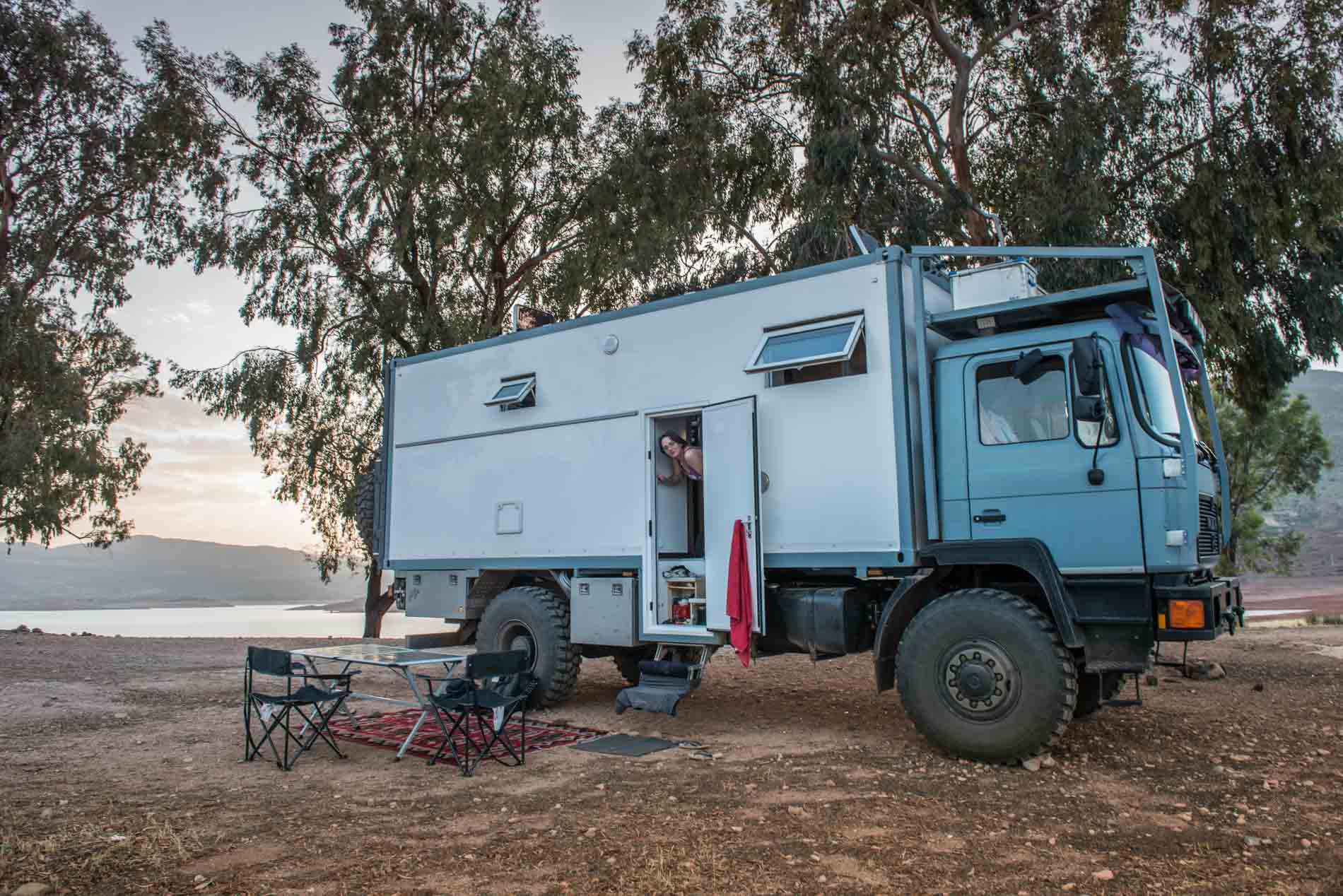 Above the photo of one of the most beautiful places where we have been so far without paying a penny, the Bin El Guidane lake in Morocco
1) Fortune
Since we usually do not drive with a fixed destination, we often find places to stay overnight in a completely casual way. We must say that in 90% of cases these prove to be the best places we have ever found. For example: by driving we notice the bed of a river with a good access trail and beautiful beaches? Better to stop for the night; Do we identify a beautiful flat space away from the road and protected by nature? why not stop then; When we see places like this and it is very often afternoon we stop early and prefer to relax a nice place rather than drive more and end up in some less charming area.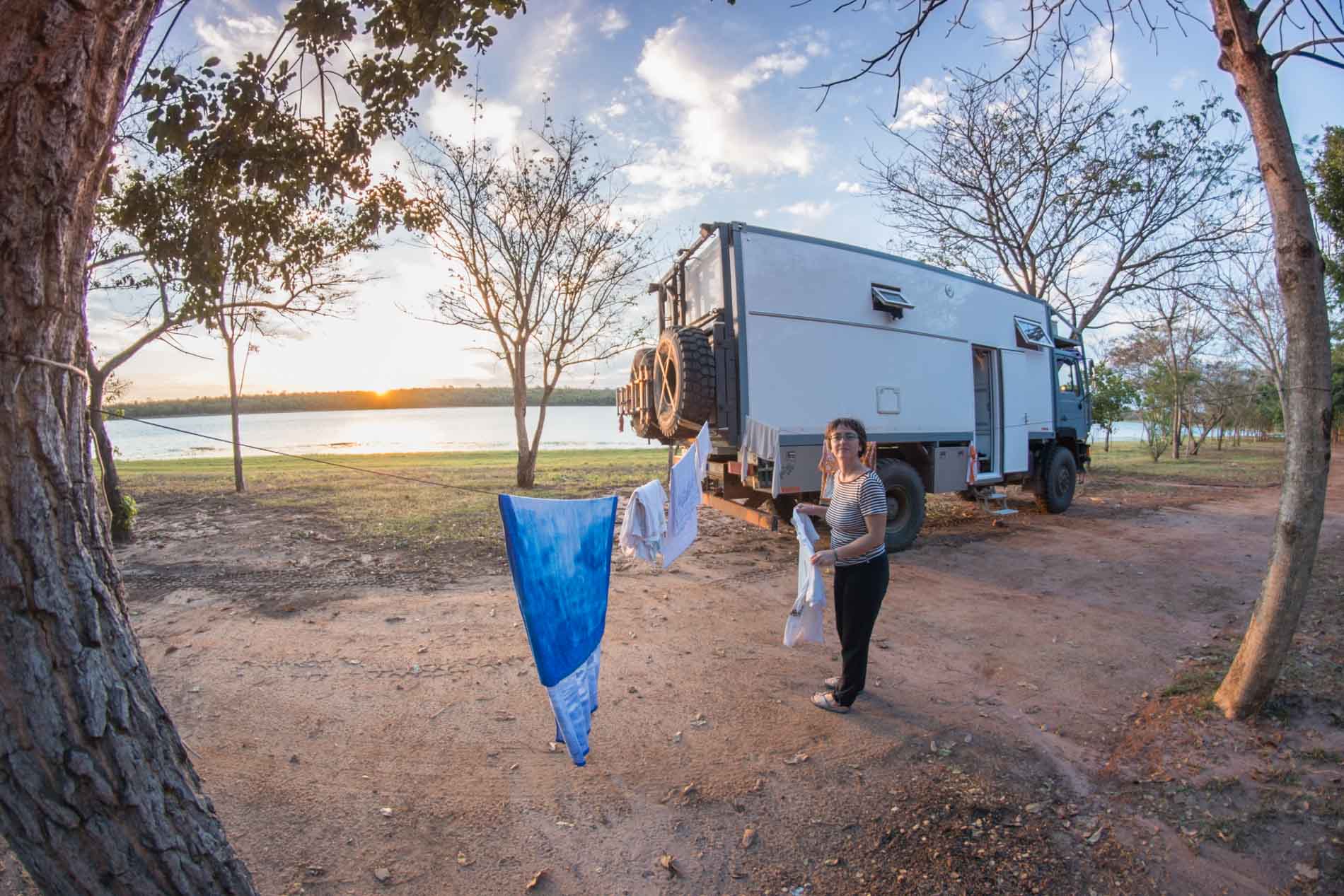 Photo above: traveling in Brazil along a side road we spotted a park overlooking a small lake, we did not miss the opportunity to stop even if it was not yet lunchtime and we had walked a few miles during the morning.
2) New neighborhoods under construction
We rarely use these places although they can be a good place to find flat areas and protected from view. These are developing areas where roads and lighting already exist, but the surrounding buildings are still under construction. Often these places will become high-quality residential areas and often they are supervised by surveillance because of the machines that can remain parked overnight. You just have to pay attention not to be woken up in the morning by a bulldozer or a truck that has to work right where you are. We happened to sleep in places like these in different countries, sometimes you can even be lucky and be housed inside the precincts of a building site.
3) Sports fields
In Latin America these are mostly football pitches. We use them occasionally, but we always take care not to put ourselves in places too close to population centers. Sometimes it is possible to enter the playing field, other times instead between the stands and the fence, it depends a bit on the size of the surrounding area.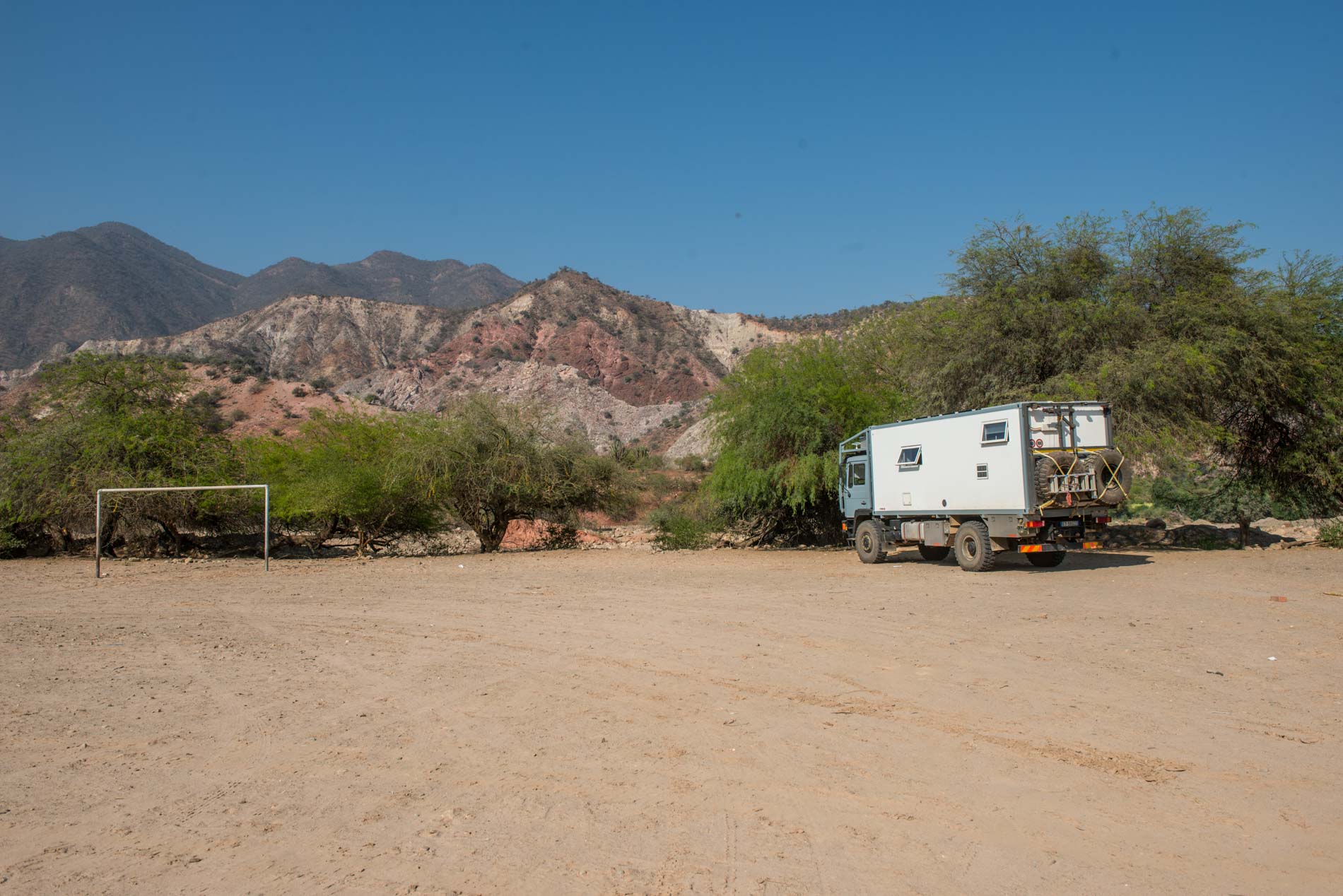 In the picture above a small soccer field met along the road to Sucre, Bolivia.
4) Geographical map
On board Valentino we use different types of digital cartography, mainly it is free maps based on the OpenStreetMap project. Using this map we look for large parks, green areas, river banks, etc. Often this approach works because we have found some really nice places using this method. However, sometimes we waste a lot of fuel turning empty, checking the places, and cursing the fact that our maps do not allow you to understand if the roads are actually passable with a truck or not. Buildings, fences, channels, unique senses and cartography errors do not help to succeed with this approach. Finally we must also consider the fact that reaching a place identified through the map maybe we realize that we do not like from the point of view of "security", so let's move on.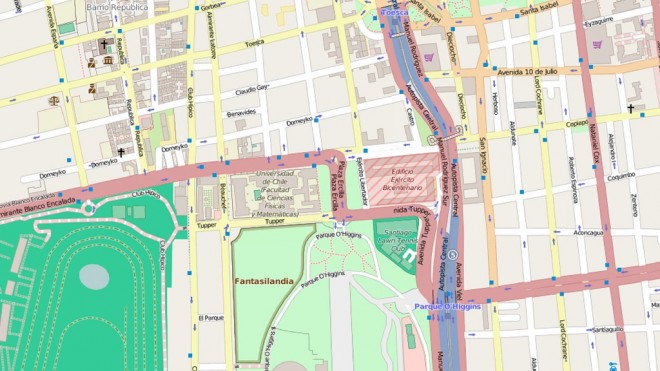 Pictured above: Looking for a place to stay in Santiago de Chile using the OpenStreetMap map downloaded for free.
5) IOverlander
IOverlander is a popular free smartphone app used by many travelers. It is an instrument where you can find reports of places to stop left by others. A good note describes its characteristics and of course is indicated when the area is paid or not. Among these there are also many reports related to mechanics and places of interest. It's a very interesting app, however as far as we are concerned, since we travel slowly the places listed are often too distant to be of real use. We happened to find very good places with this application, but nevertheless often we have found them poorly described, inaccessible, nonexistent or really uninteresting. Through this app we also realized how common it is to stop paying through Overlanders compared to the free one, which is therefore of little interest for us.
Consultiamo spesso IOverlander e cerchiamo per quanto possibile di contribuire con il nostro punto di vista, tuttavia al momento sono abbastanza rare le occasioni in cui abbiamo individuato luoghi gratuiti davvero interessanti.
6) Missions or Churches
Often the missions are located on the edge of small villages and therefore far from roads or places that are too busy. Sometimes they have outdoor parking, sometimes it is enough to knock on the door to open the gate and then stay for free in complete safety.
We are guests three nights in the Assumption Center of Joal Fadiouth in Senegal, a Christian mission that works to give education and work to young women. A quiet place on the edge of the small and beautiful village of Joal.
7) Parking of tourist sites
We are rarely lucky with these, but nevertheless we tried when possible. Sometimes these are places outside the built-up areas, but night-time parking is often not permitted. When you are lucky you can stay overnight and maybe even use the WiFi connection of the ticket office or the tourist information center, however, the accounts in our pocket are very rare occasions when we found ourselves well in places like these.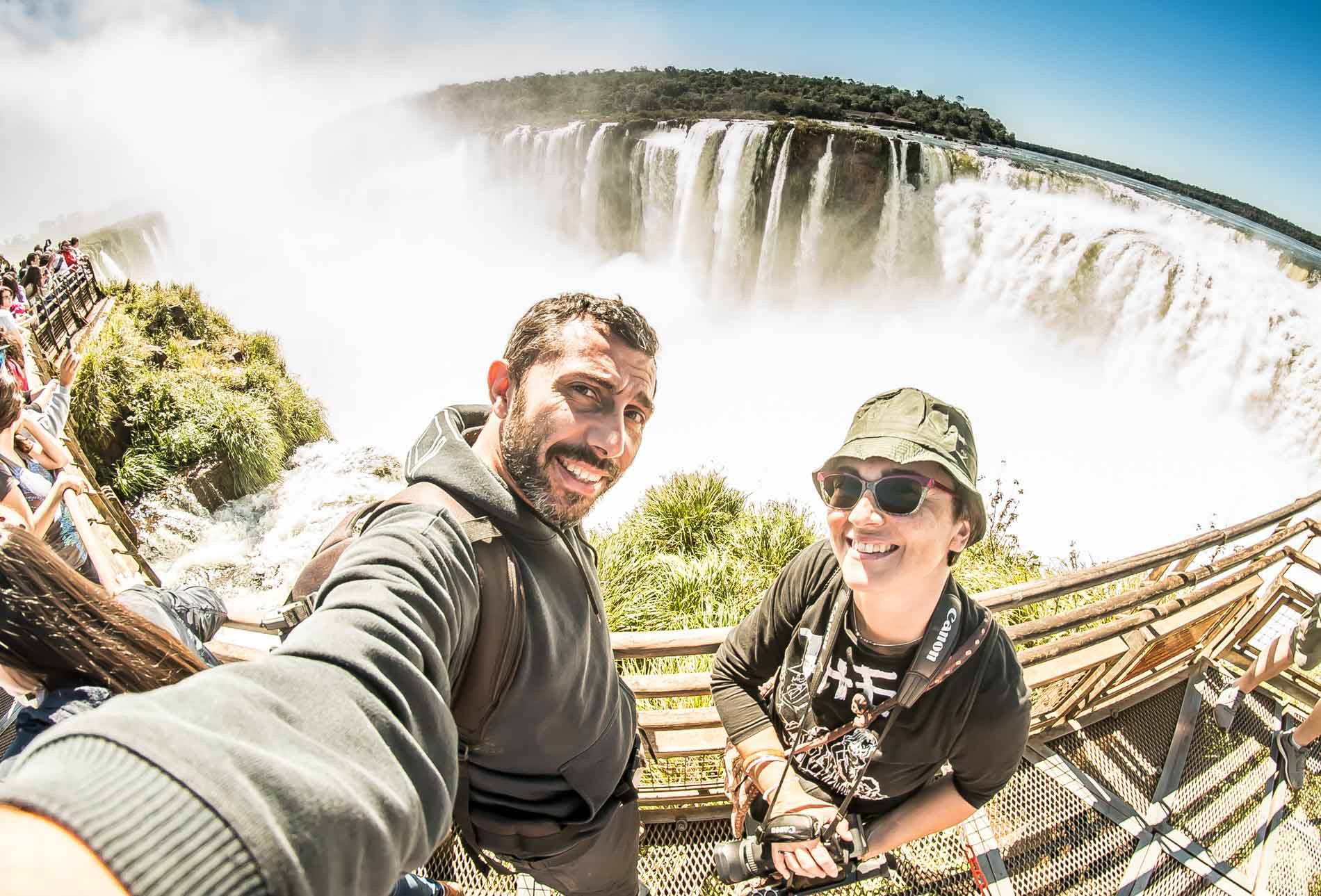 In the picture above the Iguazu Falls, between Argentina and Brazil. Needless to think of sleeping in the parking lot at the entrance to this important tourist site, after 18.00 you will be chased away without discussion.
8) Balnearios
These types of solutions are very common in South America, they are basically places where people go for a swim when it's hot or to have a barbecue before sunset. Sometimes these are municipal areas, sometimes they are private areas. You have to check well before entering because sometimes these may be paid areas. We happened to enter places of this type that were comparable to campsites, however due to the low season we did not have to pay a penny. They usually have a restaurant, toilets and other facilities.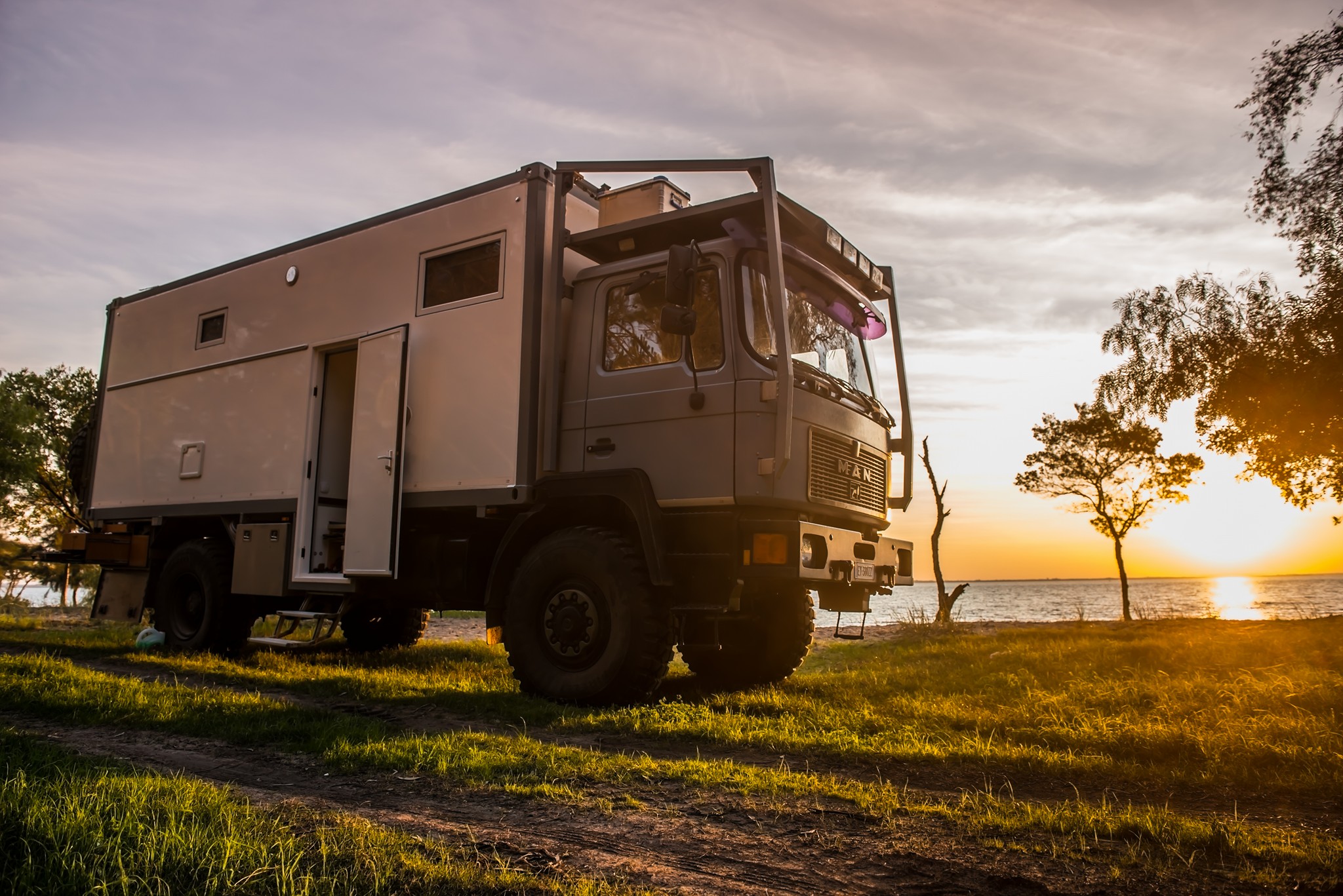 In the picture above one of the many Balnearios where we happened to stay for free, this in Uruguay, on the Rio De La Plata.
9) Friends known on the road, Facebook and Instagram
Surely the most interesting and exciting option because of the many possibilities it offers. A contact with local people, help to solve problems, security and cultural exchange. As far as we are concerned these are the situations that most of all we like, certainly because of the fact that among the many reasons that prompted us to leave there is to know other people. Among all the types of places we use to stay the days spent by friends known along the way are certainly those that have left us a more intense and significant memory.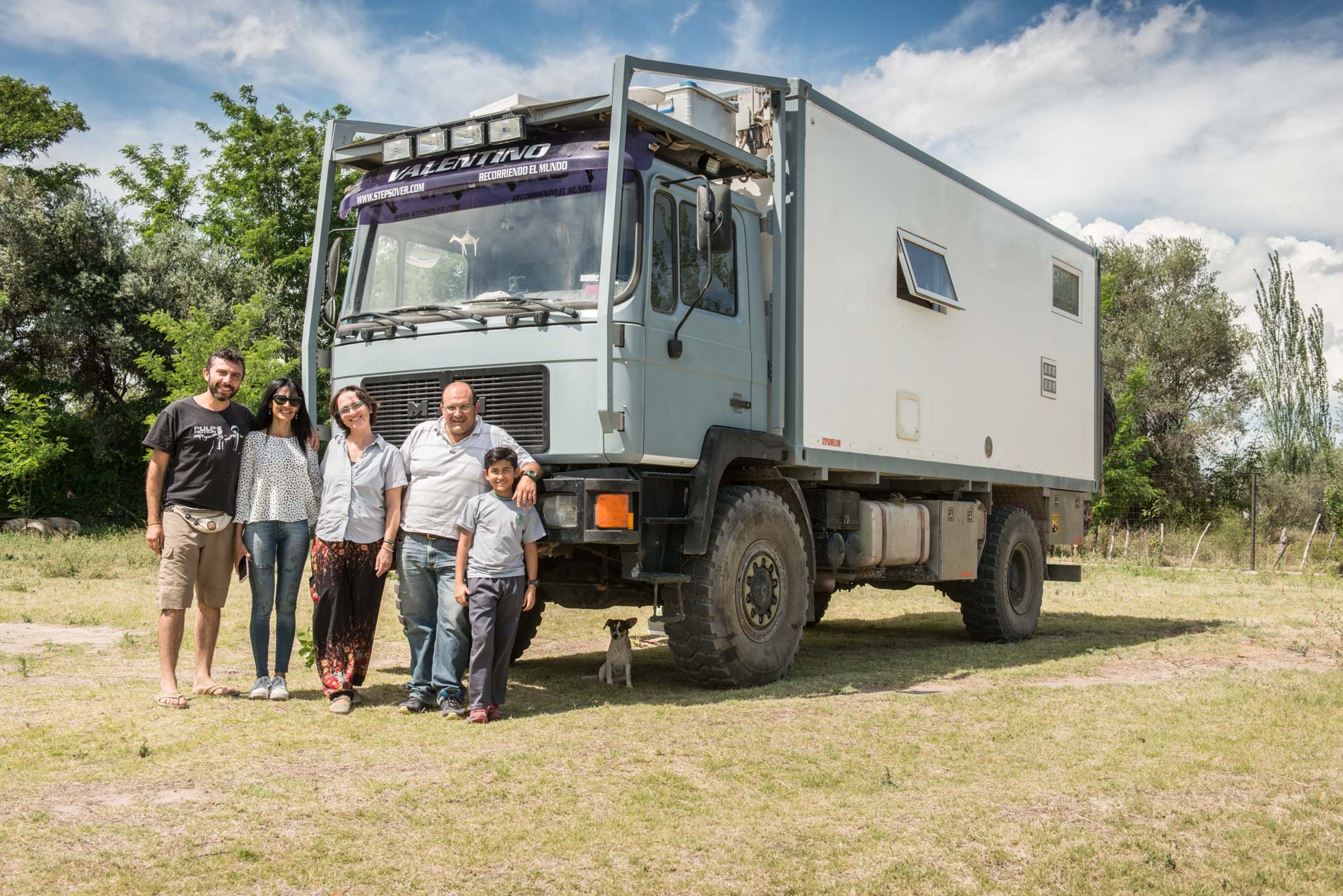 In the picture above: At the home of Juan Pablo, in San Martin, Argentina. We spent a few days in their company, having found new friends is among the most beautiful things that has happened to travel.
10) Remote areas
The easiest and often the most fascinating solution from a landscape point of view. Many ask us if we feel safe to sleep in isolation, the answer is absolutely yes, moreover, what should we fear in the middle of the desert? We slept in places in Argentina where they tell stories of sightings of UFOs, those did not come to disturb us during the night, but it would have been interesting!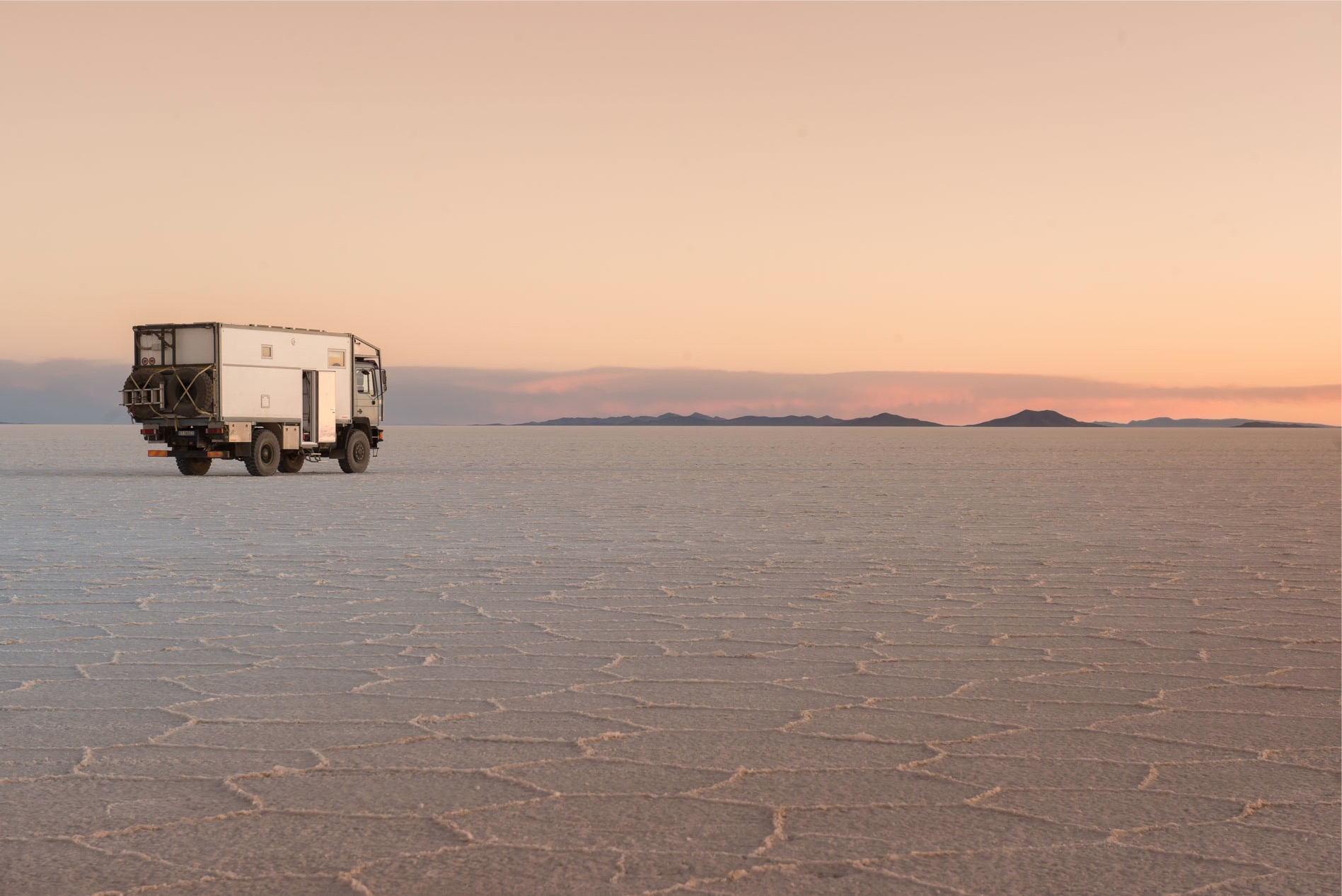 In the picture above a night spent in the middle of the Salar of Uyuni, we felt safe? I would say yes.
11) Public parking lots
On more than one occasion we found ourselves stopping in the city using a normal fenced public parking. On many occasions these parking lots are free for the night and sometimes it happened that they were closed and kept under surveillance by guards. It is a good solution to spend little or nothing and stay as close as possible to the city center. The only precaution to keep when traveling with vehicles like ours is to pay attention to access points, which can often have restrictions for height or width.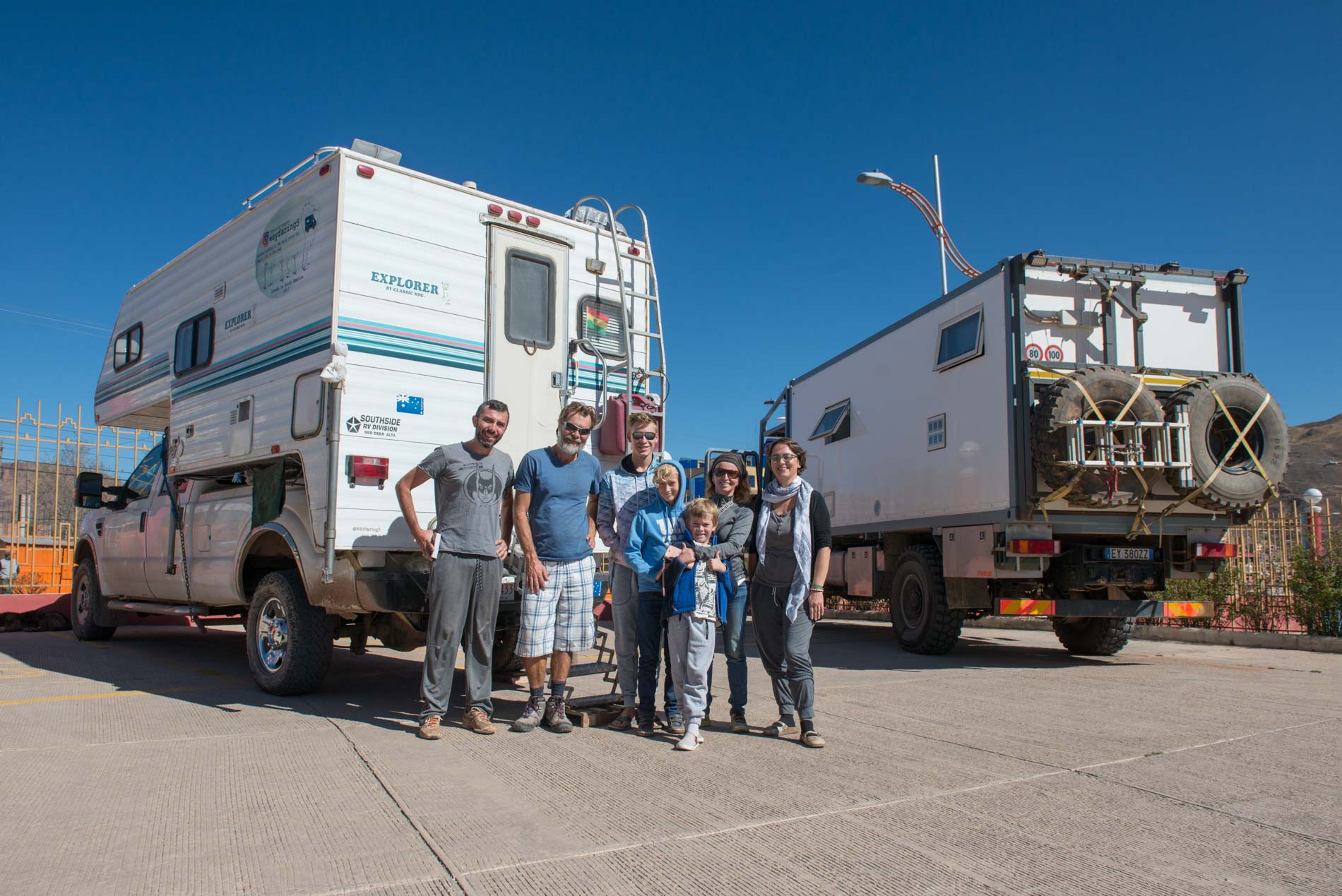 Pictured above: Pleasant meetings in a parking lot in Potosi in Bolivia, where we stayed for two days.
12) Service areas
Service areas are often a good solution for a night's sleep along a busy road. When the areas are well equipped they have bathrooms and showers that are often used by truck drivers during their journeys. Particular attention must be paid not to park near refrigerated trucks, as they are known to be noisy due to the air conditioner which keeps the load compartment temperature low.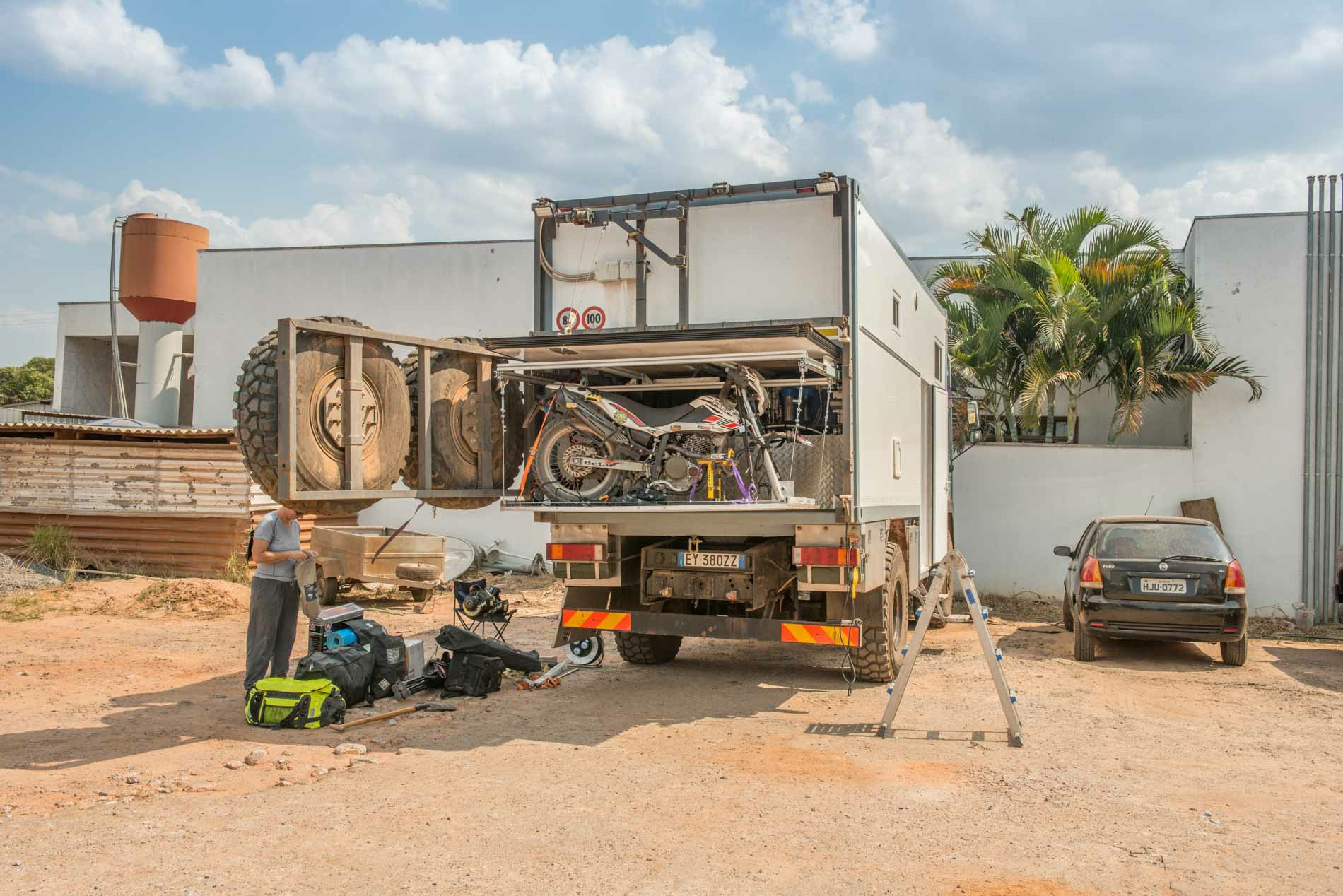 In the picture above the Posto Aroeira service area that we used in Bonito in Brazil. Perhaps the best where we happened to stop, since we were in the back widely protected by walls that separated us from the busy street of the city center.
We are always looking for a seemingly safe place although we believe that most people are friendly and helpful, this often means being quite secluded. We trust our instinct, if a place or a neighborhood does not inspire us, we go ahead or if the locals or the police tell us that the neighborhood is not safe, we do not stay!
On the other hand, we understand that many travelers go to great lengths to stay hidden. Especially in cities they explore a place during the day, set a Waypoint and return to the darkness of the night without lights on. So, maybe it's a bit 'too much? In the cities we have parked often in full view and up to now, they have never been disturbed. We must admit, however, that even our Valentino helps us in this, its height and its structure give us a discrete privacy.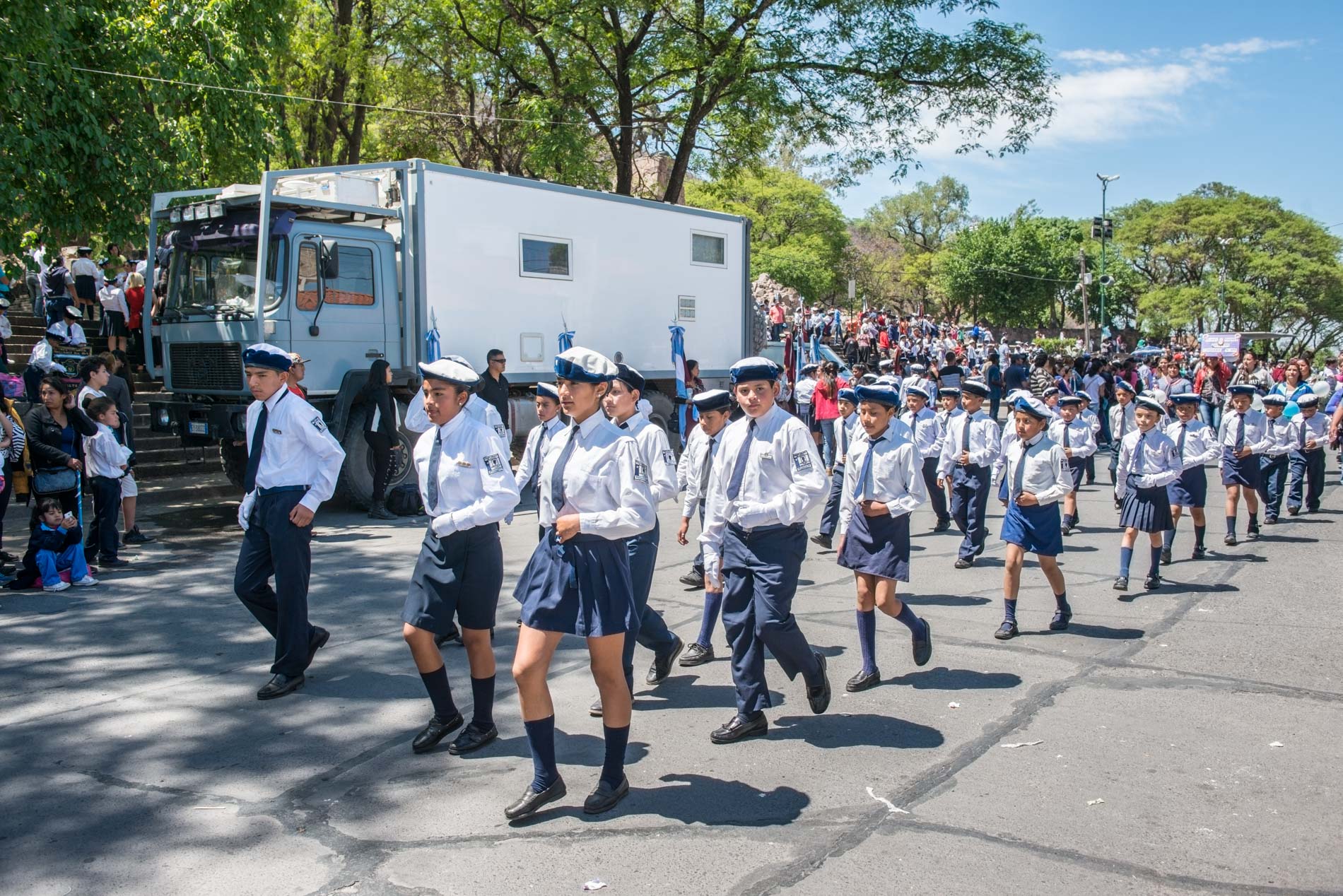 In the picture above we are in Salta in Argentina, where we stayed for several nights in the city center. One Sunday we woke up and we were surrounded by a parade with a lot of band and political rally.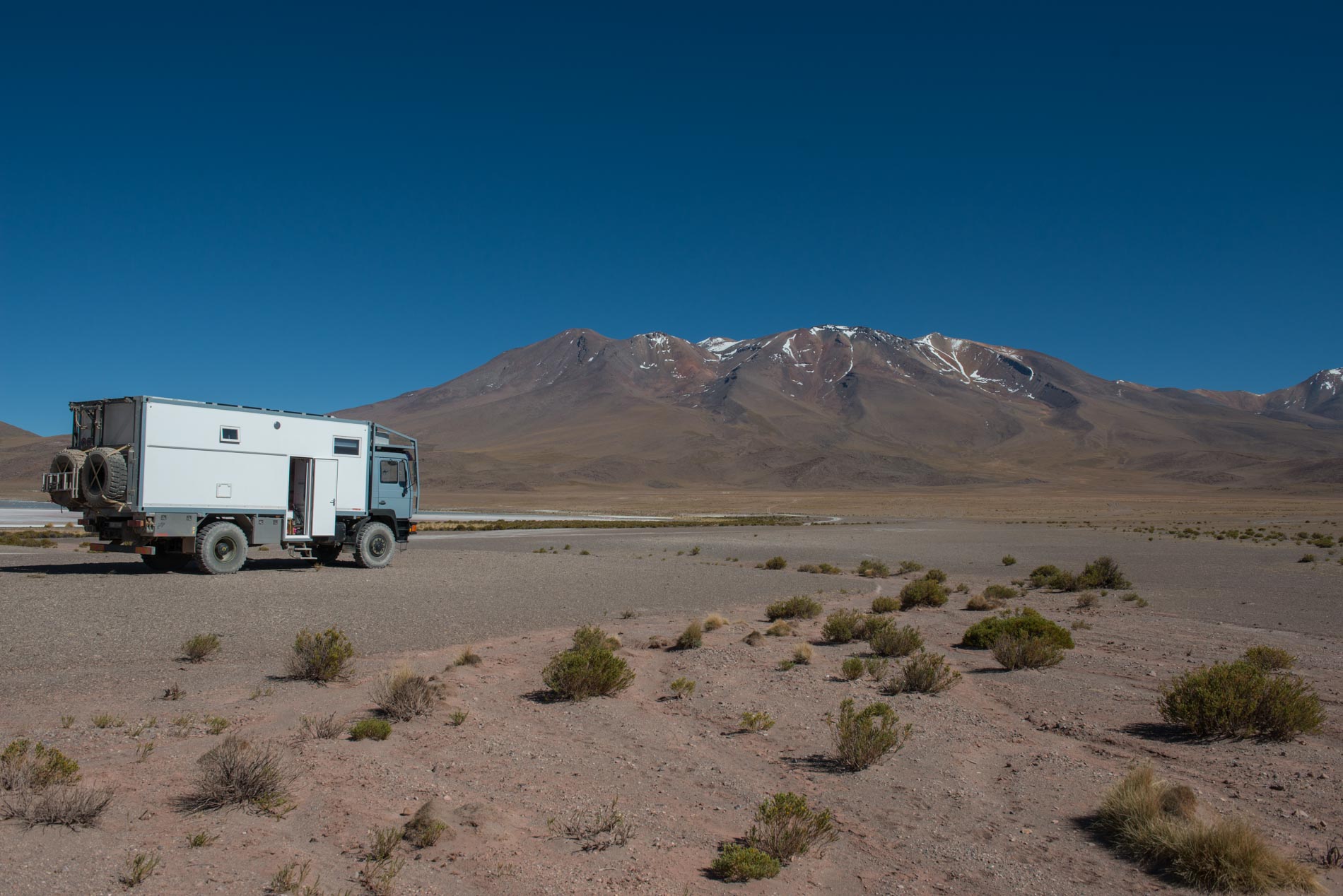 What could be better? A sunset and a sunrise in complete solitude in front of the beautiful Bolivian lagoons. No noise, no presence of civilization, only the subtle sound of the Pink Flamingos to keep us company.
Conclusion
Different people like different places to spend the night. Some look for beautiful facilities and easy access to a city center or public transportation; others want to be as far away from civilization as possible. As far as possible we prefer to stay in a quiet place, in the middle of nature, but in some states, such as Argentina, for example, we meet many fences for animals that do not allow the exit from the road. Some places are perfect, others less, but what matters is that at the end we always find a place to sleep!